Everyone sings for themselves
Actually, Eddi Hüneke wanted to do one of his choral workshops "Eddi plus Chor" on this Saturday afternoon at the beginning of April in the Hürther Friedenskirche. The founding member of the a cappella band "Wise Guys" describes in a conversation in the garden of his house in Hermülheim's Nibelungenviertel that he has already received around 100 registrations from singers.
"Everything else" had come, and in addition to the appointment of a replacement date for a rehearsal afternoon and subsequent concert on 29 August in the Peace Church, he had already made all preparations for a virtual choir rehearsal in the basement. Hopefully it is a "compensation in this boring time". Of course, a rehearsal with an experimental character, because "choral work online" cannot really be offered, admits Hüneke. When it comes to the timing required for singing, each of the computers and transmission systems involved struggles with a different latency, i.e. time delay.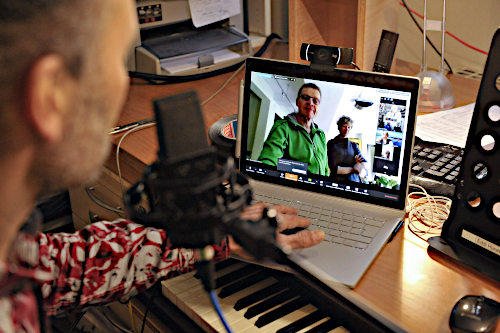 The technical difficulties had already been demonstrated by a first experiment with a small choir from Kürten at the beginning of the shutdown, Hüneke explains. There were also many feedbacks when all their microphones were unlocked. Since singing together is technically impossible, he at least tries to create the illusion of singing together, Hüneke explains.
This afternoon about 25 participants, who have also dialed in in pairs from home, learn how to do this, many of whom use the webcam to network with the choir leader. Hüneke sees them as more or less sharply drawn faces on the screen of his laptop, which he has built up on the keyboard of his keyboard.
"Hi Bernd, Kathi, Pia, Maria, suddenly there are a lot of people coming," Hüneke observes. "Ah, I hear something, wonderful," says one woman. Before the singing lesson starts, the participants from Hürth, Düsseldorf, from Cologne, will answer a list of questions that has been displayed. Probably the most important information for the choir leader: there are many soprano, some alto voices, only a few bassists and no tenor online: "Well, just the usual picture in choirs."
"No one can hear you, no one needs to be ashamed."

Eddi Hüneke at the virtual choir rehearsal in the Lockdown
How horrible it sounds when everyone with open microphones reads the line "But this angel is there/ to protect and keep you…" singing from an old "Wise Guys" song, Hüneke quickly demonstrated with a setting in the conference software. And so none of his "trial rabbits" chuckles when he announces, "I have to mute you, that sounds mean". But that also means: "No one can hear you, no one needs to be ashamed."
Mute, only with this trick can the illusion of singing together work, Hüneke has found out. A backing track of "Ein Engel" (four-part) once recorded for another choral project has to replace the choral voices for each individual. In addition, the participants hear Hüneken's singing and his keyboard as he goes through the tones for the angel-refrain vocal position for voice position with the workshop participants, apart from the missing tenor.
For feedback and individual dialogs, the participants can switch on by pressing the space bar. Then Uwe says, "My wife next to me is too loud." "There's a slider on the ear to make it quieter," Hüneke jokes. Alexander asks for the beat for the first chorus, Beate's rhythm is not quite clear. "I'm overwhelmed," says one with both hands on her head. "It's just really fun," says another. Hüneke can still train the sense of rhythm of each individual by connecting a metronome. "I like to practice with metronome, a super instrument to become more rhythmically precise," he advertises for the often unloved rhythm generator.
And after singing the song, the participants also applaud each other at the end and confirm the lesson with "it was fun". At the end of the "historical hour", Hüneke draws an honest conclusion: it is "totally scared" to "imagine" itself, instead of "listening and seeing" in a room.