No final outcome yet – dismissals have been announced
The staff of the Brühler branch of Galeria Karstadt Kaufhof is still collecting signatures for the preservation of the branch. Up to 15,000 signatures had already been collected, the meeting on Friday said. The closure has still not been finalised, said Silke Brück, deputy chairman of the works council, and Jörg Dahlem of the company's IT department. Negotiations with a Dutch investor are still about pushing down the rent for the commercial building.
All employees had received their dismissal, Silke Brück said. On 1 August, the first of the workforce will take up a new position. This time, the former green Kaufhof shirt adorned the mannequins, which tell their stories on behalf of the employees.
They talk about dreams, opportunities, a rare feeling of us, but also of sadness and disrespect in dealing with them, as the real losers.
They provide eleven reasons for signing:
"At Galeria Karstadt Kaufhof here in Brühl, I was given the chance to return to my job as a young mother. Even during my training, I dreamed of decorating shop windows for such a large department store.

Now that I have found my place, everything should be over again. It can't be.'

LIsa R., since February 2020 at GKK Brühl


"I opened the Kaufhof in 1976 and now I have to close it. After 44 years, more than half of my life worked for the Kaufhof and now in unemployment!

I didn't dream of such a farewell, I actually wanted to go with dignity."

Karl-Heinz Franke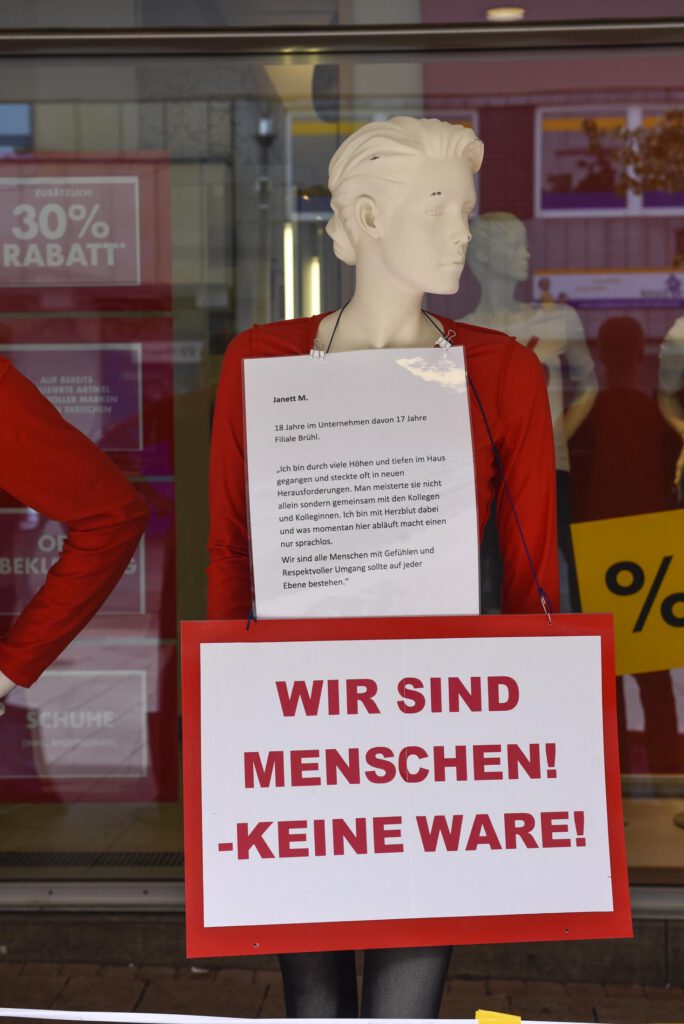 "I went through many ups and downs in the house and often got into new challenges. They were not mastered alone, but together with their colleagues. I'm there with my heart and what's going on here at the moment just makes you speechless. We are people with feelings and respectful treatment should exist at every level."

Janett M. 18 years in the company, of which 17 years branch Brühl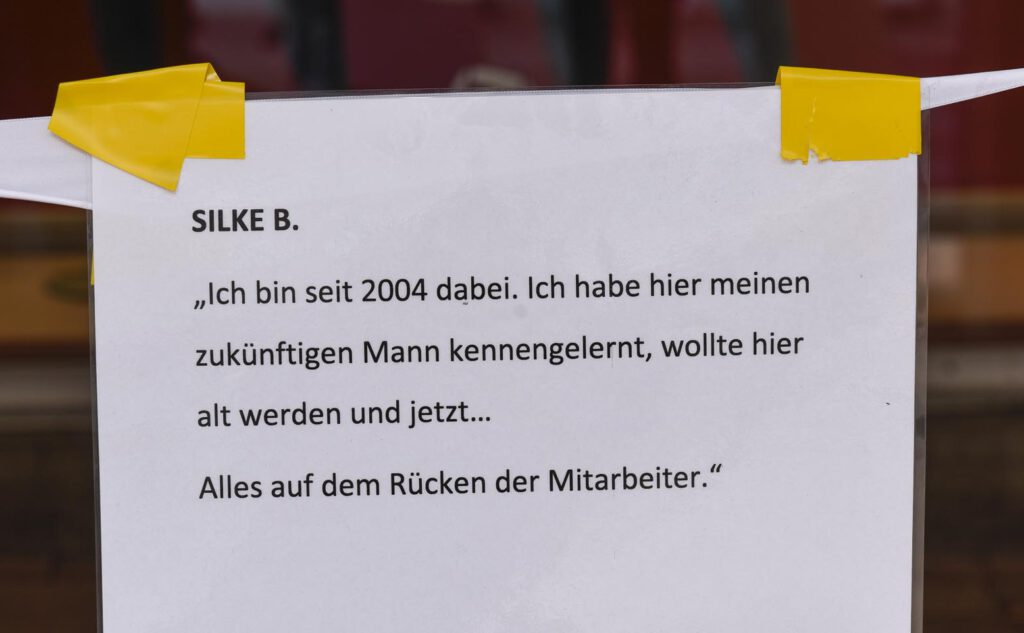 "I have been working with heart and soul in the Brühl branch for 34 years. It makes me infinitely sad that this is the end of it…"

Beatrix L


"I have been in the company for 30 years and have enjoyed working here. We're like a family here but what's being done with us now is disrespectful.'

Fred J, Goods Acceptance


"I live in Brühl and have been working at the Brühler Kaufhof for 30 years. That is and was my passion. I love working here. Our clientele is very important to me. It's not just a job like my family. As a single mother, the Kaufhof was my lifeboat. I am very grateful and proud to be a part of this company. Thank you for your support!"

Marika M., Employee Sales


"I was in my 18 years in the Kaufhof in many branches, but nowhere was it like here in Brühl. I found a family and my best friends. It is unbelievable that my life with my Kaufhof family should end like this."

Sandra L First Strength Sale. since 2002 at Kaufhof, since Nov. 2016 in Brühl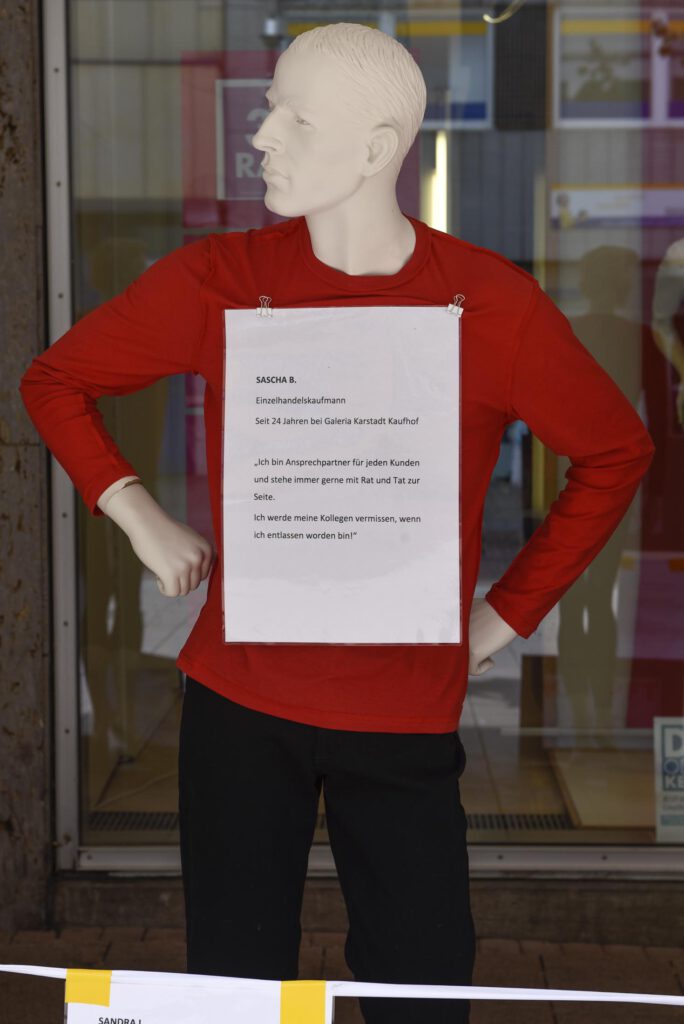 "I am the contact person for every customer and am always happy to provide advice and assistance. I will miss my colleagues when I am fired!"

Sascha B., Retail salesman, for 24 years at Galeria Karstadt Kaufhof


"I was happy to find a new job here in the GKK branch in Brühl after a year of unemployment. The work is varied and fun. I have super nice colleagues. Since I live here in Brühl, I have also been a customer for many years.

I can't believe this is really about the end!"

Martina T. Visual Marketing, since January 2020


We spent more time here than at home. With passion and passion we have brought the energy and work here.

And that's thanks?! Just being a number?

Malis P. First Kraft Sale , since 2001 at Kaufhof