"As long as the breath lasts"
Like a relic from grey pre-life, Tom Fronza's meter-long didgeridoo rests in its singing bowl with the pickup. Behind the musicians themselves with their mouths on the horn, "as long as the breath lasts".He has his fingers on the buttons of a midi controller and the feet on the control unit for loopers and sequencers on the ground.A computer is used to synthesize all sounds.Pan flute, harp and an electronic drum like a tabla complete the setup.He first rehearsed the music as a one-man show, he later reveals.
A whole arsenal of electronic pedals and controls for his electric guitar can be found at the feet of guitarist Alexander Lipan.Every now and then, whenever it comes to ethnosounds, as in the piece "Brainticket", which Fronza sometimes calls "Döner Clavé" or "Baklava Beat", the guitarist also takes his oud, an oriental short-necked lute, in front of his chest. David Bruhn plays on a normal drum, it seems.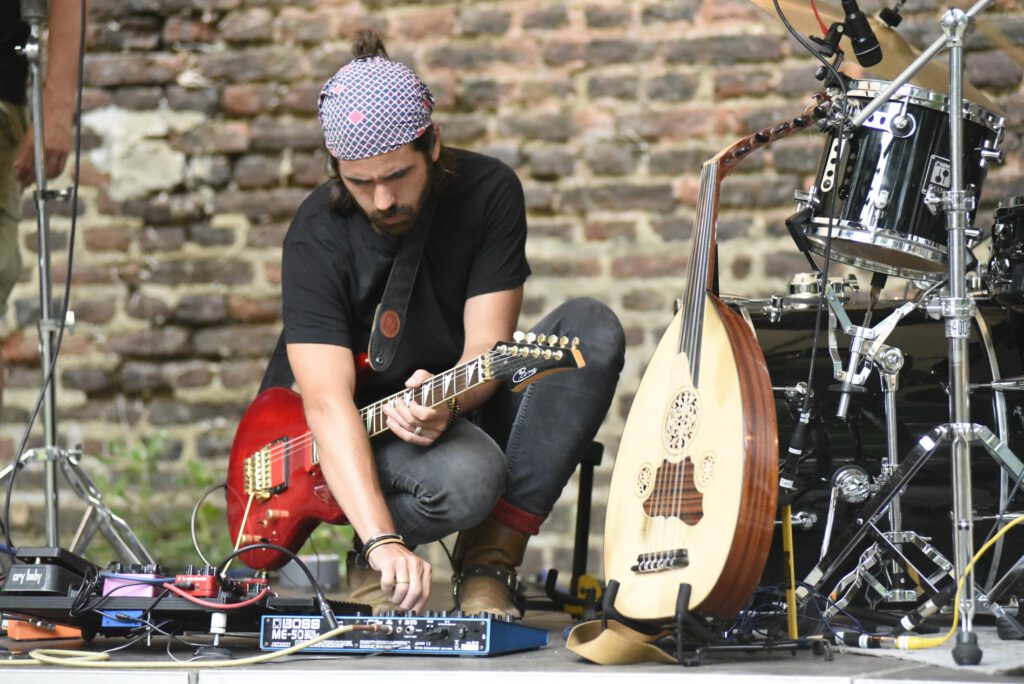 The trio from Herford is called "Analogue Birds" and they are analog-generated sounds from their instruments, which they use as the starting material for the circuits of their electronics up to the digital loops of their computer. Tom Fronza describes her music as a colourful mix between "funk, jazz, rock, fusion and ehtno".
It is reminiscent of jazz rock a la Miles Davis "Live Evil" as well as of later Bristol "Trip Hop" in the style of the band Massive Attack.Fronza announces a homage to the break beat of days gone by, with the difference that the beats come from a real drum, and not from the sampler.Or they play a "Duff Duff" in "Moondock," "that's what Australians call their techno parties," like Fronza, who lived Down Under for years.
"Baklava Beat" and "Duff Duff"
The rhythms, garnished with heavy basses from the keyboard instrument under Fronta's fingers, animate people to dance.Many songs would have been good for chilling out at one of those Goa parties, notes Alyn, the host of the Corona Solidarity Concert in favor of the musicians.
In between, Tom Fronza gives an introduction to the game of Digeridoo. It is about the art of merging overtones through lip tension, the use of the voice, percussive trumpet tones, circular breathing and even beatboxing as well as finger-sands directly on the tube. 
Shortly before the final number, the three in "Aggro Agrar Agave" really give gas. At a driving, fast pace, the birds from Herford offer everything they have to offer. They chirp similarly to the sounds of a cute Robot R2-D2, make sounds reminiscent of buzzing instrument cables, fieps like when searching for transmitters on a steam radio and sometimes sound like loudly roaring rivers.
The listeners thank you with a lot of applause for the fiery music and also the musicians are happy to look into "smiling faces" once again.
Tom Fronza gives further musical samples on the net https://soundcloud.com/umlaut-recordings/sets/analogue-birds here and here https://analoguebirds.bandcamp.com/ and here you can still visit the homepage https://umlaut.de