First event of the BM-Cultura after Coronapause
"Elfie and I are the big losers," complained Andreas Münzel with a smile and toilet paper did not turn out to be a big investment either.With a collection of expressions about the cloth lobe that heats up the minds, Münzel soon ended the short Corona part of the program: "Schnutenpulli" from the Nordic, "Maultäschle" in Swabian or "Schwadlappe" in Kölschen.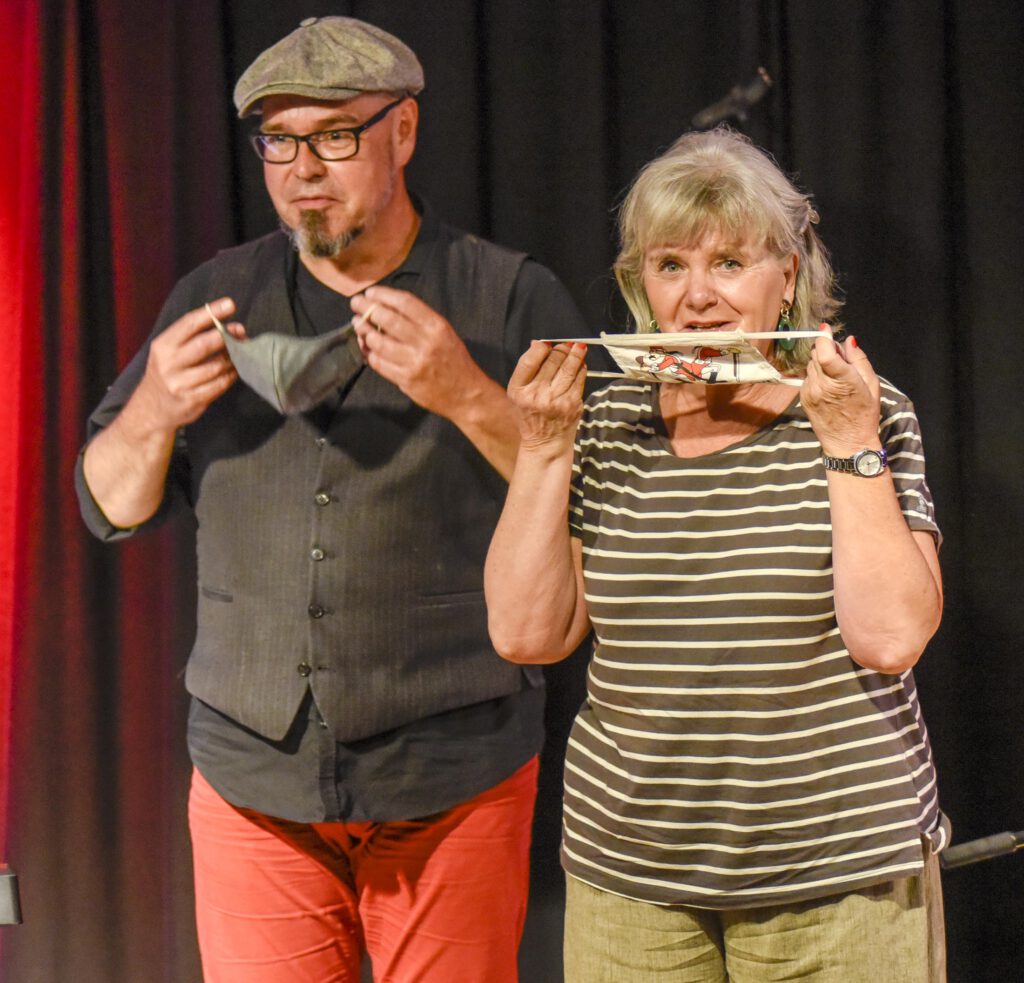 On Sunday evening, Münzel and Elfie Steickmann had already arrived at their actual theme, namely the Cologne dialect in songs played on Münzel's electronic piano and contemporary verzällche from Elfie Steickmann's pen.
A small group welcomed program director Schobbe Vois to the first event of the BM-Cultura after the Corona break in the Kulturbahnhof Gleis 11, a catch-up event.But in a small circle it can also be "beautiful", Münzel himself summed it up.
From the hobby horse of the Cologne man
Münzel liked to sing from the kölschen's hobby horse. He likes to travel exotic: "Club holiday with dä Blage" to the "Bal-Bal-Balearic Islands" to Vino Tinto and Mare or to the "Bal-Bal-Balaton". His next song was "Driss Wedder".With current travel warnings and the prevailing hot weather period, the listeners' longing for normality blended into the humorous lyrics. Lines like "wat wet weed, weed widder drösch" experienced listeners like a promise of better times.
Before the reading, Elfie Steickmann quoted from her book "Och dat noch" "Moon Night", "We had to memorize poems, read books", today dominate the mobile phone. In a church she had read a text addressed to the visitors with the request to turn off their mobile phone, because "he (God) will hardly call her". And "if they want to see him, they send him a text message while driving."
From the fairy dust of men
In addition to gift vouchers that dissolve in nirvana, and yoga taster classes with "Fraulöck" of different ages and figures, she liked to look at the men with a loving, critical look. Praised sawdust as "fairy dust of men" or rebuked their color blindness when it comes to various shades such as "plum, aubergine and mallow".
Münzel trolled well-known songs by Ostermann, Berbuer and his own blues on the theme "Dä Lack's aff".And he raised "I hann die Frau janz jähn", as the Kölsche describes his love, with "ärsch jähn" and "ärsch, nasty jähn".
From Jäger us Electoral Palatinate
Steickmann had brought one of her most recent texts. In "Wä sök Wä" carnival couples look for the jecken time by "Annonce im Wochenblatt" in rhymes. For example: "E söß Müüsje us Wahnheide/ waat jester noch ne "Augenweide"/ sök dat Engelche met Baat/ wat aan Kölsch nit hät jespart."
Or: "En Elfe met janz krulle Löckcher/ em Minirock met Minisöckcher/ hatt Fun am 'Jäjer us Kurpfalz'/ hädden dä jän jet mih am Hals."
http://www.koelsche-kleinkunst.de