Perspective of Darkness
Do we really only see things at night without lighting in grey values or do we still see colours in the darkness? In order to answer the question conclusively, the painters of art group 16 went on a nightly excursion with their instructor Sylvianna Scholtyssek. They visited the Heider Bergsee on the outskirts of Brühl. And they found that on the one hand it doesn't get convincingly dark in local, western latitudes and yes, in the twilight there is always a color swinging with it, some saw more "reddish", others more "bluish", explained Scholtyssek.
A lot of light…
During the open studio days in September, the group showed results on a whole series of painterly explorations on the ground floor of the art and music school in work rehearsals. They show research on the phenomenon of darkness. These are experiments on color palettes that can be achieved under black or act like colors on black backgrounds. Dealing with materials that help the unconscious in creating the actual image, said the school's deputy artistic director. It turned out that there was no real black and that the group had basically come across "a lot of light".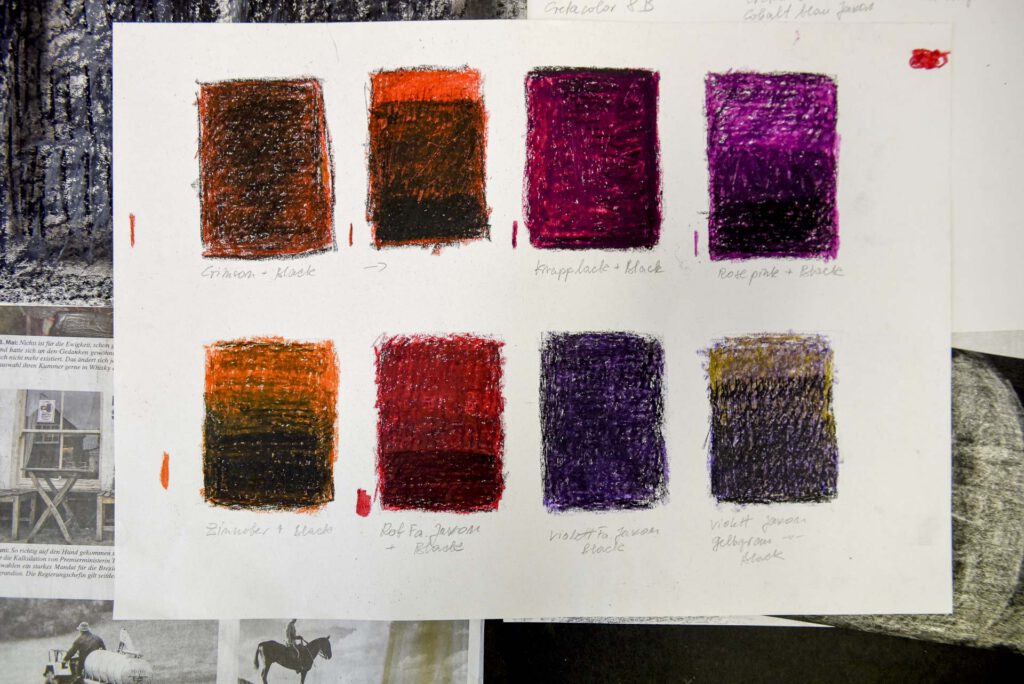 … and feeling between things
During the encounter with the eclipse, the group "intensely engaged in a sense between things," says the lecturer, who has led the group for 26 years. She herself had felt reminded of one of her studies in the jungles of Costa Rica. It is darker there than in civilization, and therefore "one sees inexplicable beings emerging between branches and roots". There she gained an intensive understanding of the emergence of ideas of God of ancient cultures.
Exhibition in the Castle Church
Under the title "Perspective of Darkness" from Sunday, November 22 to Monday, December 28, pictures of the group 16 can be seen in the castle church of St. Mary of the Angels. In cooperation with the Brühl Youth Church, they showed "figurative and informal works that convey silence and meditative power in a sharply retracted colour, according to the catalogue."